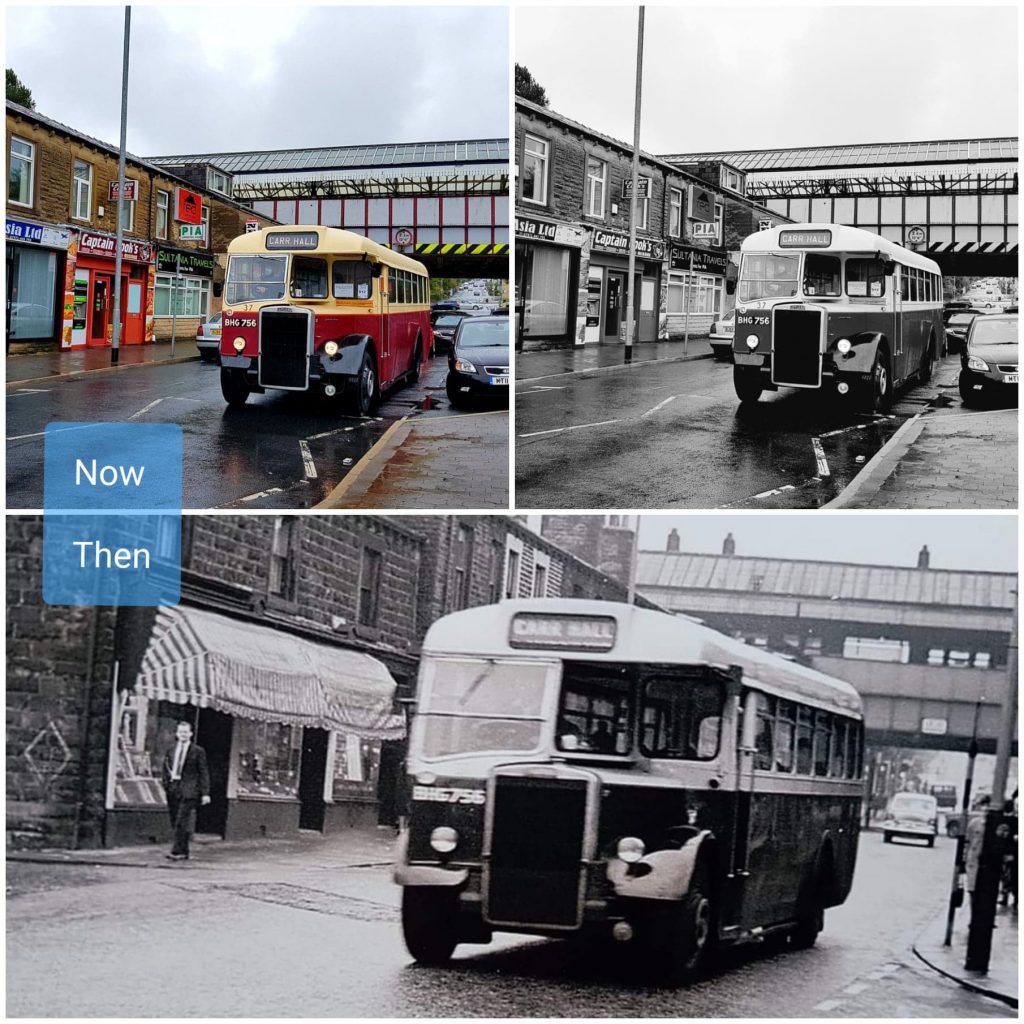 This bus was one of three placed in service by BCNTJC in 1953 and the following two years saw a further eleven being delivered, numbered 39 to 49. There were some of the last half cab single deck Leyland tiger buses built for the home market. Originally, all had rear entrance bodies, built by East Lancashire Coach Builders, but the move towards one man operation conversion to front entrance took place in the late 1950's.

This work involved not only the replacement of the rear hinged door by the front power operated folding doors, but also the re-positioning of the seats on the nearside of the vehicle, a new angled side window to the cab and modification to the screen behind the driver to enable him to turn around and collect fares. The rear destination boxes were also removed and reversing lights fitted, vitally important for the safe maneuvering of the vehicle in darkness with no clippie to guide you.

When out shopped after conversion, a simplified livery was applied. This is the style worn by 37 today. No's 36 to 48 only ever had destination blind displays, With 47 to 49 this was altered to include a route number blind also. These last three vehicles had one piece windscreen in place of the split screens carried by the earlier models.

The vehicles all survived to be taken over by Burnley and Pendle, successors to BCN, in 1974, and 37 was retired that same year. The younger models continued to work, in some cases until 1977.

No37 was bought from B&P for preservation but some years later was discovered in a very sorry state stored in a shed in Padiham, near Burnley. Windows were broken, fittings were missing and the bodywork was in urgent need of attention.

Purchased jointly by John Forshaw and a number of people forming the BCN Preservation Group, they restored her over a number of years and she has been to many rallies since the work was completed in 1990.
Sine December 1999 she had been owned by Paul Kirkup, who often traveled on these vehicles during his youth she now resides back in her home area. Several of her sisters have also been preserved N036,40,41,44,45 and 46 as is an earlier PS1 model No 10.

37 was acquired by Michael & Leon in February 2018, and now based in her new home in Burnley area. She's had a top engine rebuild since finding out that she had three double valve spring broken, and now up and running doing her first bus rally in Morecambe bank holiday weekend 2018 and doing a free bus shuttle service from Accrington railway Station to Great Harwood show on bank holiday Monday 2018.

On 7th July, 37 did an on the 11th hour service to Oakworth Gala where it had some special guests on board – the Mayor of Keighley, Fular Ahmed, Lord Mayor of Bradford, Zafar Ali, along with the local MP for the area, John Sugden. Great day out for 37 again.

15th of July, 37 participated its second rally at Fleetwood Tram Sunday. She took on board gracious friends from the BCN Society Members for another great day out, thanks to the Mayor of Pendle for the organisation of the visit, First time in years that has 37 been back to its original depot for a run around the depot. then onward to Fleetwood picking up in Burnley Bus Station, Padiham, Reed, Whalley then Fleetwood by the A roads. she performed brilliantly again.

37 Has had new inner tubes fitted on the front wheels, as the nearside tyre was going down after few hours, all sorted out, Next year we will have to but two new tyre's for the front, thanks to Harrison's Tyre's in Clitheroe.

No37 has recently had a new paint job on the roof, front of the bus around the destination blind, engine cover, around the drivers window and front of the bus. The wing mirrors have been cleaned and repainted, and the rear and front wheel arches and wheel hubs.

13th July 2018, 37 is currently at Keighley Autotec having some work done on the electrics. Currently, 37 is not charging batteries. Thankfully the dynamo is working but the regulator isn't causing problems with the lights inside and headlights etc. If she has to go out at night, batteries would not last long enough. The new regulator part is coming from the USA, and the dynamo has to been taken off and altered to work with the regulator from the USA.
37 been out and about in different places since and was invited by Ribble Vehicle Preservation Trust to attend their Bank Holiday Monday at Lytham hall Lytham, and was well received by the trust and was well photographed.

37 attended the Trans Lanc's Bus Rally at Heaton Park Manchester in September and Mr Stephen Astin whom came for the ride from the garage found photo of 37 at Railway street Nelson in the pre 1960's, We have replicated that photo again to the modern day in Railway Street Nelson.
37's photo that was taken in the pre 1960's was shown on the websites of Nelson Lancashire now and then got amazing reviews and story's of the time people rode BCN buses.

37 has attended the East Lanc's Railway at Rawtenstall on Saturday 8th September the day the Flying Scotsman is visiting, Great chance to show off 37 and hope for people to use 37 in local community events and charities in the future.
37 Has been asked to attend the opening of The Lancashire Day in Nelson on 24th November 2018 by The Worship Mayor of Pendle Councillor Mr James Starkie 10.45am Nelson Town Centre.
37 will be attending the AGM of the BCN SOCIETY for a three hour trip around the local area where BCN routes were and still are.
37 has had some inside painting done recently to the inside of the window frames and the lower floor panels around the bus, and the floor has been repainted, cab area also has been repainted.
The inside of the doors have been painted and front parts of the bus and new battery terminals fitted.
Over the winter period 37 will be having a exhaust flex pipe fitted once I get a new one sourced.
37 has had the exhaust flex pipe fitted and has also had two new drive/fan belts fitted.
37 has been repainted inside on the seat mountings and driver cab area, the engine compartment as been sprayed black and the engine sprayed in sliver to give it a cleaner look.
37 has had two new front tyre's fitted to as the other's had been on since 2008 just passed the 10 yrs mark and need replacing asap.

25th May 2019 37 attended the Accrington Bus Fest, organised by Amazing Accrington. 37 did a few round trips of Accrington to Church and back into the Town hall every trip that we did was fun and full of passengers young and old.
And we did ending up doing more that was asked.
One guy, came up to us and he actually drove 37 in service at Colne Heifer Lane Depot in the days. My mate Mr Paul Kirkup came along as the conductor and gave out tickets and spoke on camera about his time of owing 37.
what a brilliant day that was, 37 will be hopefully be attending next year.

15th June 2019. We attended the Colne Gala and parade with 37 and we came away with winning the first prize for Vintage Vehicle, and a cup and certificate.

37 was invited to attend the Heywood 1940's weekend, were 37 went to the Heywood Railway Station and picked up the evacuation children and ran them into the town to join in with the 1940's weekend events and drama, then joined in the parade, afterwards 37 was in line next to a double decker bus supplied by the Greater Manchester Bus Museum. Where we both had many visitors from the event and local people came and said hello.

37 attended for the first time and was greatly received by the Burnley Rotary Club at their yearly event of the Burnley Rotary Club Classic Car Show. Many people attended the event at Townley Hall Burnley and 37 was well visited where people came and said hello and talked about the times they saw the bus in those days.

37 went to the Leyland Commercial Transport Museum on the 7th July and during the time Mr Mark Hanson whom owns 63 PD 2 BCN came and said hello and invited me with 37 to visit his farm to meet No 63 we had a long chat and had photos with the buses together. Its been a long time since these two buses had been side by side.

37 went the Fleetwood Tram Sunday on the 21st July 2019, on the way back 37 had developed a problem with the radiator hence the water was coming out the cap and with brown foam, after doing a strip down of the water rail we had notice that the thermostat was sticking in place and hence the slight over heating of the radiator. so it was removed and since then its been running very well.

37 went a charity event in the aid of cancer research with Mr James Starkie called the Roughlee Ramble, loads of activity going on with bacon butties and hot drinks. James went from the Pendle hill pub in Barley to the top of Pendle and back down the pub. after that we went to the Bay House Pub in Roughlee for some well deserved drinks and food.
37 has had an engine and under chassis steam clean on Friday the 9th July 2019 in prep of MOT in November 2019 with the help of a friend from Moving People Accrington, and for all the joints to be re-greased again.

37 has had all joints and other parts greased and started to have the under body work sprayed with protective paint.

37 attended the Ribble 100th Anniversary Running day on 26th August 2019 at Lytham Hall Lytham. we was asked to do a run from the Lytham Hall to Fairhaven Lake and then on to St Anne's and return journey.

37 has had two n/s tyre's changed as they were badly worn on the outside walls and the inner tyre was starting to have the wire showing through. Changed with the tyre's from the front ones when I them changed them this year by HARRISON TYRE'S CLITHEROE.

37 has had to have some tightening of injector pipes as they started to leak fuel, which I noticed in time all other nuts and bolts checked to make sure all secure for the road.

37 is helping out the Padiham Community Choir, which made up with choir members that have anxiety and autism and they are making a recording for Alder Heys children's hospital on the 23rd September 2019.

37 was joined with 63 BCNTJC bus for the 15th September 2019 Town and District Transport Trusts open day and running a service and a display for others to enjoy.

Michael attended Gawthorpe Hall on the 11th September to do a pre recorded interview with Radio Lancashire with Mr Brett Davidson and Rachel from Gawthorpe Hall to talk about the up coming open day at the hall to be broadcast on radio on the 12th September at 4.10pm and again at 4.40pm. more publicity for 37.
37 is hope to be attending the Padiham Parade next year 2020.

37 has been doing free shuttle services from Padiham Town hall to Gawthorpe Hall for their open days on the 14th September and again on the 6th October 2019.

Gawthorpe Hall and 37 are looking forward to partnering in community events in 2020.
37 has had an invite to help out with the artist Miss Alice Kettle at Padiham Town Hall and Gawthorpe Hall with her works of textile Biennial, We were asked by Mr Ed Matthews-Gentle of Lancashire County Council to help transport attendees from the Manchester Road Railway station to the Padiham Town Hall and Gawthorpe Hall on the 17th October 2019.

37 was asked by the Padiham community Choir to take them to Blackpool Tower where they were singing by the request of Lancashire Police Crime and Commission for Lancashire, on the 27th November 2019. They were well greeted and sang brilliantly.

37 has attended a charity for the Burnley Homeless people by the church on the street by the pastor of the Burnley Methodist Church on Hargreaves Street Burnley, and Owner of Quicker skip of Burnley Mark Hanson. then off to the Rose and Bowl in Stacksteads Rossendale for a nice meal on the 21st December 2019.
37 has attended the amazing Accrington bus fest in conjunction with the Town and District Transport Trust on the 25th April 2020 on the Accrington Town Hall Square.

37 has a new destination blind GAWTHROPE HALL

Whilst 37 has had down time as so to speak, we have been doing some maintenance work on her like oil and filter change, fuel filter changed and diff oil all now completed and ready for the road again. We will be wire brushing the underneath to get rid of old paint and rust before we start to spray paint the underneath which will help preserve the bus longer, since it's not been possible to do it for a while. With kind help from Mr Stephen Astin, accomplished spraying the underneath of the bus and got the chance to inspect at the same time. A great job done, thank you Stephen!
Tyre's have been re painted again with tyre paint, seems like an endless job, but worthwhile knowing all good to go again.

New destination screen rubber fitted, and all cream panels and window frames repainted.
Fitted new rear o/s indicator bulb holders as the old style bulbs can't get anymore so had to update to new type.
Since the coronavirus has hit the whole world we have had to cancel most of our events that we were attending. We have had to alter dates around for this year, so hopefully we can resume back to some sort of normality in 2021.
KEEP SAFE AND WELL AND STAY AT HOME.

Watch out for more news during the year.

Thanks Michael & Leon